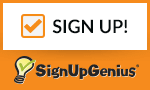 Our annual "State of the Parish" overview will present a picture of who we are and how we fulfill our Mission as a parish.  Our Open Forum will seek opinions and ideas of who we wish to become.
 Please reflect on the following questions:
What are you seeking?  How can this parish help you?
Does your participation in parish life end after attending weekend Mass?
If so, what would encourage you to become more actively involved?
Do you invite other people to join you at St. Francis?
What would need to change for you to enthusiastically invite your friends/family/neighbors
to become part of the Catholic Community of St. Francis Xavier?
What should our "vision" be for the future and how will this "vision" be relevant to others?
What should our Community's focus be as we move into the future?