CLICK on the "Sign Up Genius" button below to sign up for the OLF statue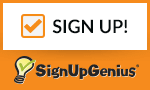 You are invited to have the Our Lady of Fatima statue in your home for one week. Included with the statue will be materials to help you grow in your faith.
Pick up of the statue is on Sunday in the chapel. Drop off the statue the following Saturday, or the very latest by 11:00 a.m. Mass on Sunday. You will be incredibly blessed!